PISCES is a biogeochemical model that simulates marine biological productivity and describes the biogeochemical cycles of carbon, oxygen and of the main nutrients (P, N, Si, Fe) (Aumont et al., 2015). It is the marine biogeochemistry component of two ocean modeling platforms (NEMO and CROCO), three Earth System models (IPSL-CM, CNRM-CM and EC-Earth) and one operational oceanographic system (MERCATOR-Ocean).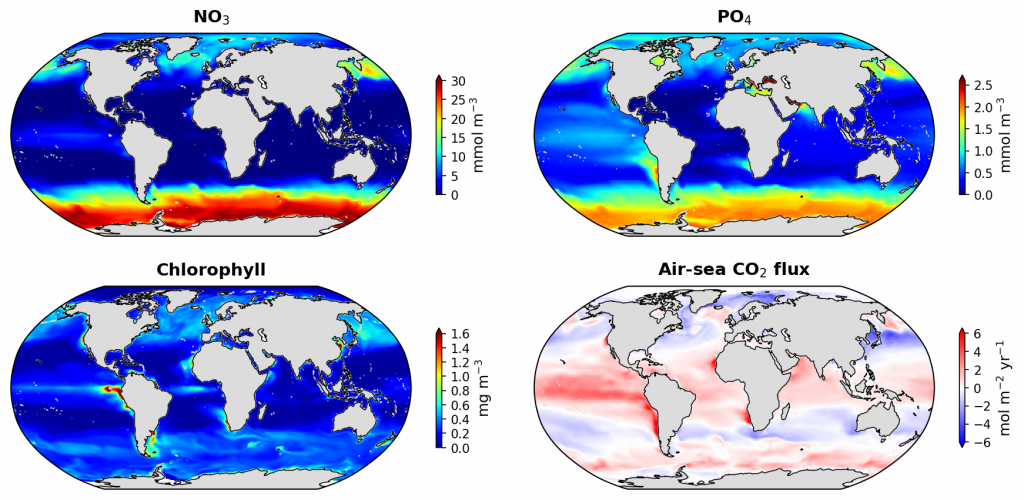 The PISCES Community project (PISCO), funded by LEFE, aims to organize the scientific objectives of the PISCES model. The PISCO project is proposed as an answer to the challenges that are posed by the growing number of members of the PISCES community, the vast diversity of usage of the model and the new emerging paradigms in marine biogeochemistry. It provides the appropriate framework to facilitate the exchanges within the community, to coordinate the evolution of the model and to pave the way for the future versions of PISCES that meet the needs of that community.
The main objectives are to:
coordinate

the different

modelling efforts

using PISCES and stimulate collaborations between the different research groups

identify

the

major missing processes

in PISCES and design the future evolution of the code while preserving the large diversity of usage

promote exchanges in the community

and

improve

training

for current and new users

of the model
The PISCES community is structured by a user group and a decision-making group. Meetings are organized once a year for the user group and every 6 months for the decision-making group. PISCO gathers over 50 researchers, engineers, post-doc researchers and students from 14 research institutes/laboratories: IPSL, IUEM, CNRM, IGE, LOV, MARBEC, MERCATOR-Ocean, LEGOS, CEREGE, Université de Nantes, University of Liverpool, Dalhousie University, Barcelona Supercomputing Centre, and Pusan National University.
Our partners: